It's been a few months since I've posted due to my extremely busy schedule. I've recently been medically separated from the army as of 21 JUNE 2011 and began a job as a contractor on Ft. Hood within my field on 22 JUNE 2011. I have to admit, this waking up before the crack of noon crap isn't sitting well with me as of yet, but the job is good along with the pay. Since I was a Commissioned Officer it was verboten to say anything negative about our President. I got calls from friends and family on 22 JUNE asking my real thoughts and gave them candid answers that I cannot repeat here. You guessed it... I'm a conservative, but vote independent. On a tangent, the current games being played by both sides of the aisle severely anger me, but I digress and will get on to what this thread was really about... an update.
In my spare time I've kept busy with my Blue Lodge (Freemason) and even more busy with the Shriners.
I'm sure some of you remember my pocket bike painting threads and I've gotten some great use out of one of them. Here are two of my favorite pics from the Belton, TX 4th of July parade which has been billed by TIME as one of the top 10 parades for this holiday in the nation. It was about 45 minutes long and I did burn my kiester riding the pocket bike that long. Man did I catch a lot of flak and more of the Razz over that. Ha Ha. Here are two of of my favorite pics with my Fez tassel flying in the wind (notice the goatee... it's a true sign of civilian-ness):
And now for my latest project. I did not build this, but there are quite a few short cuts the original owner took that irk me to no end that I will have to fix. The first two items being the sound system and the 305ci motor. This thing needs at least a 383 with a 700R4 tranny to meet QA standards which I will fix as soon as I get another increase in allowance. I won't elaborate on the cost of purchasing this 1923 T-bucket, but it did require some begging from the wife.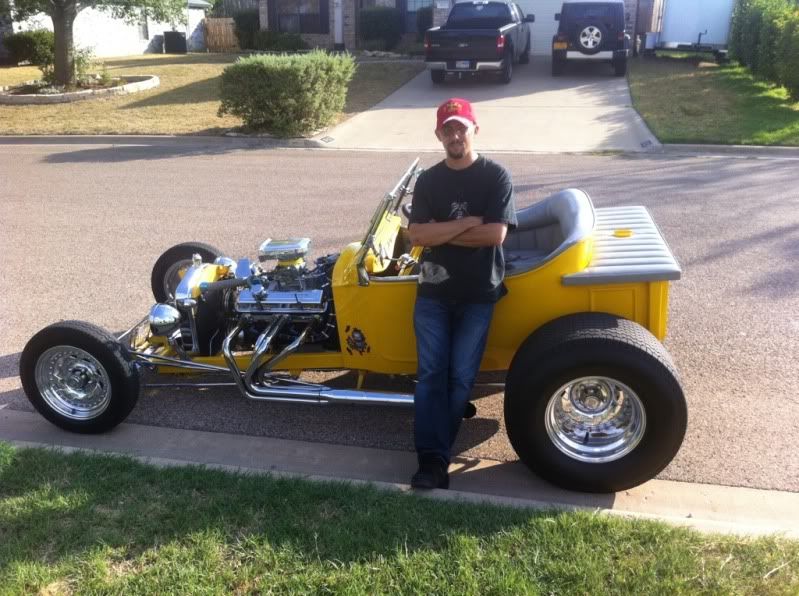 The Pocket Bike and the Roadster will match. Updates coming soon after some airbrush work is done on the bucket. Oh, and that **** Harley sticker has already been removed.