Unexpectedly acquired this chopper. Did a lot of research and found out this was sold by Pep Boys.
***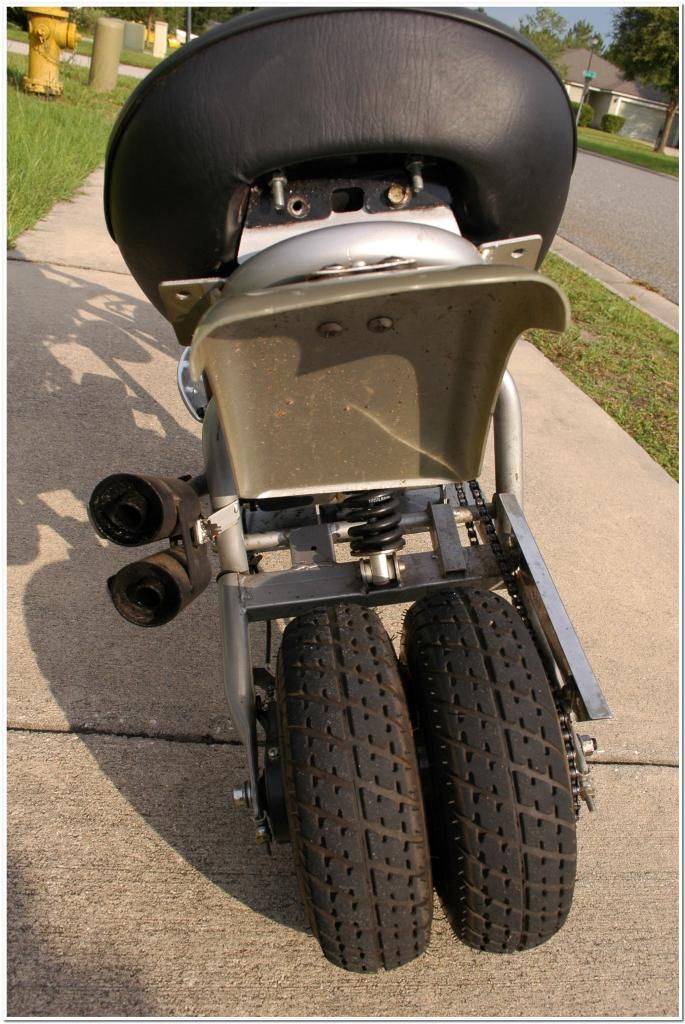 ***
I got it with a bad electric starter, the 43cc engine that came with it is literally brand new. I decided to go ahead and buy a new engine from a scooter, 49cc with pull start and get rid of all the accesories and most of the wiring harness. There is still plenty of wires under the gas tank, but thats for a later time. I broke in the engine with its stock muffler and after a few tanks installed the dual exhaust. I like it much better with the DE, sounds more peppy and seem to have a more consistent power band.
- This is the motor that came with it, there was a broken bolt which was a pain to remove. Will rebuilt this one and use it as a back up.
I had a lot of issues at the beginning with the chain, it would always fall off. I am used to the tension of atvs which has plenty of slack, it looks like on these models it needs to be considerably tight because once I did that no more problems.
Tried to change the oil of the transmission and nothing came out, even poured a ounce and nothing came out of the bottom. I am not sure, but the transmission tends to whine when letting go of the gas, but when I hit the throttle goes away. Its my first two stroke, they tend to run like a light bulb, either full throttle or none.
There was a lot of vibration and if you look at the pictures I placed a plate on the top bolt near the clutch housing, and since then in conjuntion with the exhaust, no more loose bolts. There is a piece of metal with rubber at the end of it, it was done on purpose to keep an eye on loose bolts, every now and then I would take a peak and see if the plate would collapse, so far so good.
Installed a kill switch hidden underneath the saddle, but later will use the starter switch as the kill switch. Only has rear drum brakes, the front caliper collapse, very bad cheap metal. Have to find a way to install a high quality one. It does stop, but not as fast as I would like. For now the only thing that bothers me is the whining noise coming out of the transmission, no grinding, and only happens a little loud right after letting go off the throttle.
Its fun to ride, turns are a challenge and still I pull one leg out just in case, still practicing on how to maintain the momentum out of turns.
There are little things here and there that needs to be addressed, but for now I am stoked, it runs and has a good top end for such a heavy bike and small engine. The mixture is two cycle oil 25:1 w 87 octane, spark plug comes out brownish.