HEY! new to engines/bikes/site/everything here! ....i just bought a full X1 (I believe its an X1 due to all the mechanical parts on it like starter pawl engine type etc) with a second frame and bored out engine...I got a few questions, as I am feeling the pain of the wiring problem! my brother helped me with re-wiring and the only thing we couldnt figure out is what to do with the
ignition
coil
?? as far as I can tell it's a single prong and I've found some info on where the two skinny wires (not the fat one with the plug boot) belong to- one is the kill and the other is the ground? The key start was removed a long time ago so do I still need to have BOTH wired to something? Or where should i send them to?
The only performance stuff is mesh air filter and coilover rear shock...I have yet to ride it due to a homemade wiring harness that wasnt even wired up..had about 25 wire connectors all jumbled together, but we ripped everything out and made it look clean..IS THERE NO TRUE WIRING DIAGRAM FOR THIS BIKE???
I really hope someone can help with this
ignition
coil
problem ..The local bike shop in taunton, ma kept telling me to throw the whole bike away and buy a brand new one even though I explained to him that I wanted it to start learning about them and that it was a perfect project for me...some people I just don't understand haha...
I'm also a bit confused on the proper way to mix the gas/oil? I have about a half gallon of gas and half a quart of oil..it's an old bike and believe I should be at the 32:1 point but cant figure the proper amount of oil to add to the half gallon....
A couple more small things....
How far open should the carb be in idle? it's currently about an eighth of an inch? I figured I'm gonna have to trial and error this..
Are the tires tubeless? they don't seem like there is air in them, though my buddy who is about 200-something pounds sat on the bike and they didn't really squish down much at all...don't know what the right PSI front/back is?
I have TWO chains..first one is short and goes from engine to a section in frame with a small sprocket..and then a longer/tighter one runs from that to rear tire...is this normal? and can I have it set up with only one chain?
I think that's everything I'm dealing with...SORRY BOUT THE LENGTH OF POST! My brother is a mechanic but can only help with so much cause he's never had experience with pocket bikes...only full size quads..
If there is ANYONE who can help with ANY of these problems pleeaaasseee let me know on here or email...
IM DYING TO RIDE THIS THING!! haha
Last thing- Can and should I put the bored out engine on the bike?? Everyone keeps telling me it will be WAAYYYYY better...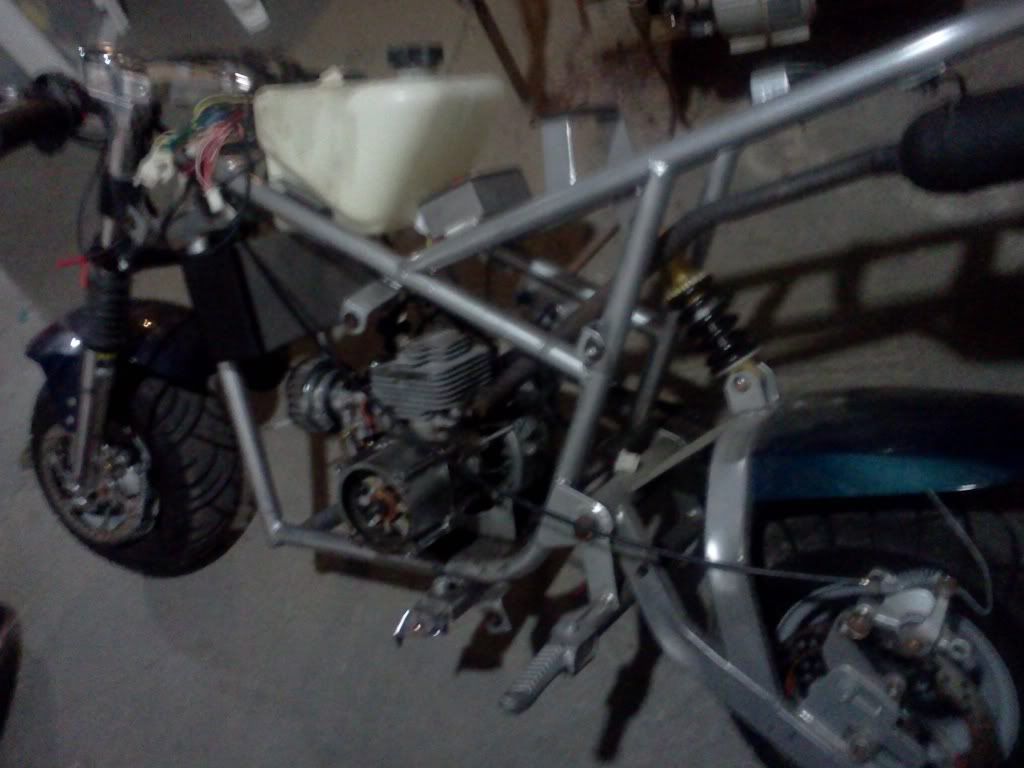 Again---SORRY about the length and size of post..im like a forum freshman lol
I have more pics at::::
www.photobucket.com/JoesPocketBike