Discussion Starter
·
#1
·
I just picked up these 2 pocket bikes. Can anyone tell me what kind they might be? Also on the blue bike the choke says the down position is open and up is closed. I tried starting with the choke open (down postion) like I would a regular bike and I closed it once it was warm (after a few minutes) and it immediately died. Did this a few times before I gave up and was about to start messing with the carb. I than found these instructions on minipocketrockets.com. I followed them and it now stays running with the choke in the open position (down). I just want to make sure this is correct cause I always thought that it was bad to ride with the choke open. Am I missing something?
Below is the proper procedure to start your pocket bike via the Pull Start:
1. Stand the bike upright; you should be straddling the bike. The pull start cord is on your right side.
2. Make sure the fuel petcock valve is in the vertical position ( the white valve lever should be straight up and down ).
3. Put the choke lever in the closed position ( the metal lever in the UP position ).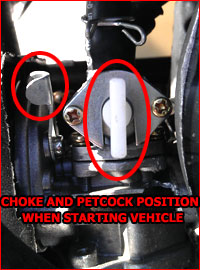 4. Pull the start cord out slowly until it reaches its maximum length and then let it retract. Repeat this procedure 2 times.
5. On the 3rd attempt, pull the cord out swiftly with one strong pull.
( pull the cord straight back; do not pull at an angle, as pulling it at an angle may damage the cord ).
6. Repeat steps 4 and 5 until the bike starts.
7. After the bike starts, let it warm up for 1 minute. Then put the choke lever to the open position ( metal lever down ).


8.
The bike is now ready to ride.