Discussion Starter
•
#1
•
Hey guys figured since my bike is near complete i'd figure i would share it with you all since i never really had a work log for anyone to follow.
As you can first see yes i NEED a bike stand. lol i normally use a bucket as a stand but with my plastics freshly painted (no more ugly stock blue black and white YAY!) I put it all on so see how it looks, otherwise only the seat in mounted on while my other body panels stay safe. The paint scheme i did was off a 2009-2010 Yamaha R1 (stickers coming soon) I'd like to get a new throttle grip one day... tore it off attempting a power wheelie (think you can all guess what happened next)
Another angle of the bike. Still running a stock exhaust while i have to to properly mod it, but if you saw my original stock pipe, this one is a major improvement. My rear break cable got messed up so im in the process of getting a new one, and i have some decent foot pegs but im debating on how i want to hook them up. Pull start is plastic but i plan on getting a metal one.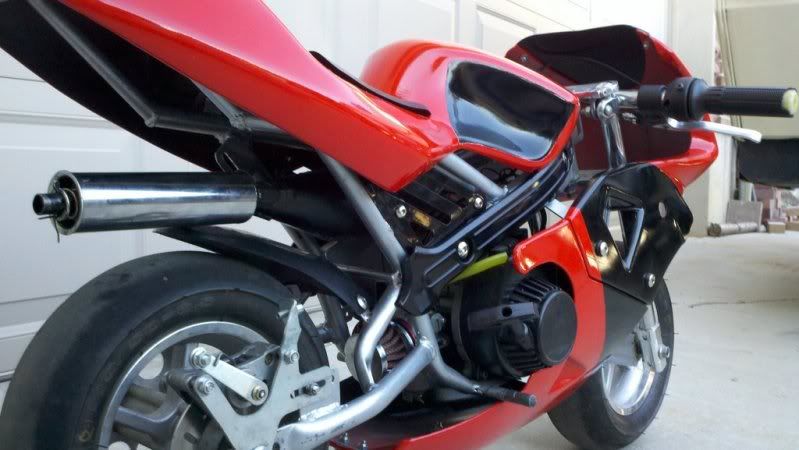 Top down view.. The rear seat holes dont line up, haha thanks china! Normally there is a gas tank but how can i get my new pretty plastics messy! I tired getting the rear "pretend seat" painted to look more like how it is on the R1 but it looked funny.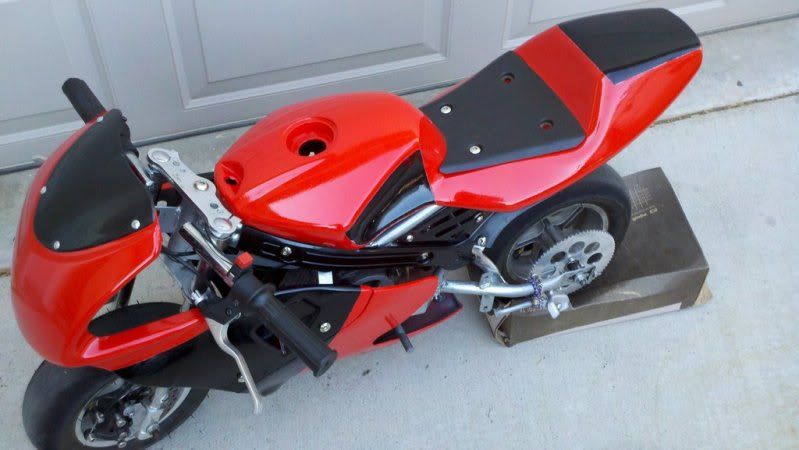 The other side with yes... more silly cosmetic defects (but giving me more tinker time) Not sure what happened to the kick stand but the spring busted off so for now till i can grind it off bungee cord holds it in place lol. Oh i know im missing a front fender but i got one on the way! Sooner than later im gonna paint the rims black and get some red trim on them form PBU along with my Yami sticker kit!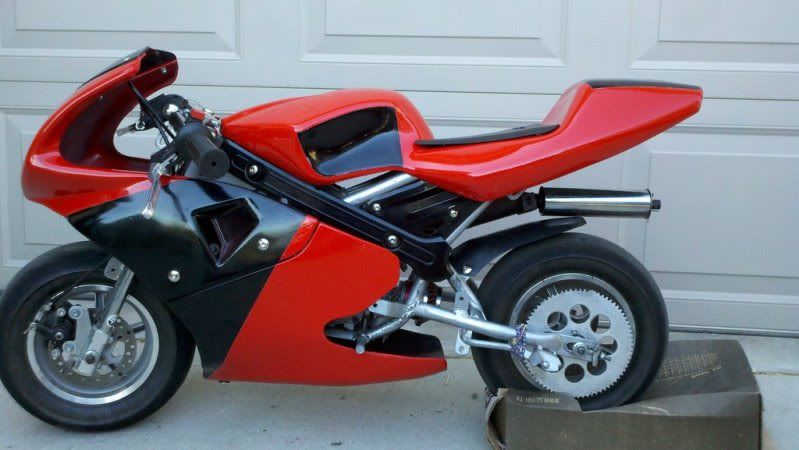 Well hope you guys like the look. i think i did pretty good for spray cans, i have a paint gun but currently the garage is packed so a tarp tent and my spray cans had to do for now. For now all you get to stare at is my outer bike. once i put my plastics away and work on the final things on my engine ill show that puppy off and list what mods/upgrades i have. Hopefully this will become the air cooled cag race bike i always wanted