Discussion Starter
·
#1
·
Hello everyone! I am a moped guy, but I got a lead on a "moped" for sale, so I called and asked if it was 49cc, owner said "yes, mini motorcycle bike thing" so I came by to check it out and when I arrived it was this:
It wasn't running, but I have repaired gopeds and weedwacker carbs in the past, so I checked if the piston was free by pulling the pullstart which fought back with me, signaling good compression. I asked how much and we worked on a number. The owner didn't have the key and I saw that the end of the muffler was missing, either rusted away or fell off years ago.
I asked him what the deal was, as the bike looked like it hadn't been ridden much but was abandoned outdoors for a year or 2 to rust away.
He said his little **** brother bought it and rode it for a day, fell off and let it sit outside for 2 winters. He doesn't know what to do with it and wants the garage space.
I took it home and got right to work. Found this site, did some checking for wiring schematics to bypass the ignition switch, cleaned the carb out, removed the gas tank because the fuel lines were stiff and broke in half, replaced with a temporary spare goped tank I had left over from when I was young (just to test the engine with) and the bike started up after removing the spark plug, gapping to .028 and filing it clean. Also charged the battery over night and the electrics work great.
Since pics speak better than words, here we go: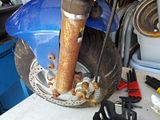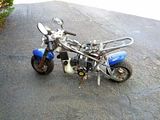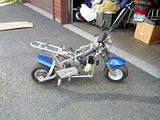 What I need to do is this:
1. I have some parts from the frame free and have scratched them with scotchbrite and painted flat black, I need to get down to the bare frame and paint it black.
2. Removed the clutch and clutch bell cleaned and sanded away rust. Clutch shoes look good, I dont know why the unit won't take off. It goes maybe 3 miles an hour and cant carry my fat *** 180lbs up any incline. I need to figure out whats wrong with the clutch. What type of fluid can I put in the small closed clutch?
3. I need a muffler. Can anyone suggest a good brand Cateye FS509 muffler for sale? Is one of these good, and if so which one should I go with?
http://www.ebay.com/itm/49cc-Pocket...ltDomain_0&hash=item25690f2861#ht_3358wt_1188
or this:
http://www.ebay.com/itm/HP-Exhaust-...ultDomain_0&hash=item19d10c4d89#ht_674wt_1188
4. need new fuel line that isn't brittle stiff and broken Found this:
http://www.ebay.com/itm/ScooterX-Fu...ultDomain_0&hash=item5ae704e457#ht_1000wt_907
5. Repair the body parts and paint em.
Anything else? maybe ride this thing?
I am worried about the lack of power... I think the clutch is bad or possible lack of back pressure because half my muffler is missing.
Anyone ever had these symptoms before?