Discussion Starter
•
#1
•
Hi guys,
Need your help again!! my bikes sick and i really can't work this out. Up until a few weeks ago its been great, aside from the petcock blocking up. so i decided when i got paid i'd treat it to a few mods, namely a proper CNC stack instead of the plastic one i had, a rocket key and a lightened flywheel, new plug, 0.65 and .70 jets to set it up right, the petcock mod with and inline fuel tap, and tapered carb needle with clip moved to the second notch. On stripping the pull start off to do the rocket key/flywheel i found the magnets on my stock flywheel were quite rusty - great i thought, it should run even better than i expected! i put all the bits on but didn't touch the coil as i didnt want to disturb the timing... however on going to test it i couldnt get it running at all, so i came on here and posted my problem, and the most common cause was suspected to be timing (the rocket key is definately in the right place - step facing the front of the bike) so i used the business card trick and reset the timing, after which the bike started allbeit with a few good pulls but i was happy and ready to see how it went with the new mods!
Unfortunely it's actually worse! the big issue is that just as you get to that point in the revs when two strokes make their power and get going it feels like its hit a wall, it tries to pull through sometimes giving a burst of power for half a second or so, but thats it, it doesnt accelerate, just stays at that speed sounding rough. You can also here it at idle, it just doesnt sound like a engine running nicely, with slight pops and bangs as it idles.
So far i've tried the following- refitted the old flywheel (not the original key as i can't find it!) removed the rocket key and refitted with a dab of locktite, redid the timing, changed the reedblock - i have carbon reeds and the orginal metal ones, tried both my carbs - both are immaculate, with the whole range of jets i have as felt it may be a fueling issue, checked my fuel supply system, inline fuel shut off/petcock mod, lines - i run freeline kart fuel line, changed plugs, removed the exhaust wadding, and nothing has helped..
I've sort of convinced myself it has to be timing related at thats the major thing thats been altered but then i'm not sure as it was going well before with that rust on the magnets so clearly the coil is putting out a manly enough spark! and with clean surfaces i'd of thought it should be having an even easier time.. i'm also sure its harder to start at the mo although it could be differcult before.
I just don't know what else to do other than to replace the coil, do you guys think this is the next best step? i've taken some pictures to stop you all from falling alseep at this point.. (everyone loves a picture thread!) anyone see anything of concern?
I'm a pretty patient person but am getting to the point of giving up and buying a stock engine, the thing is i have a decent amount of time invested in this engine as well as a few quid with the mods so would like to see it through, and replacing it will only be a further outlay, btw i'm aware the clutch/flywheel centre bolts are missing in the pics.
barrel;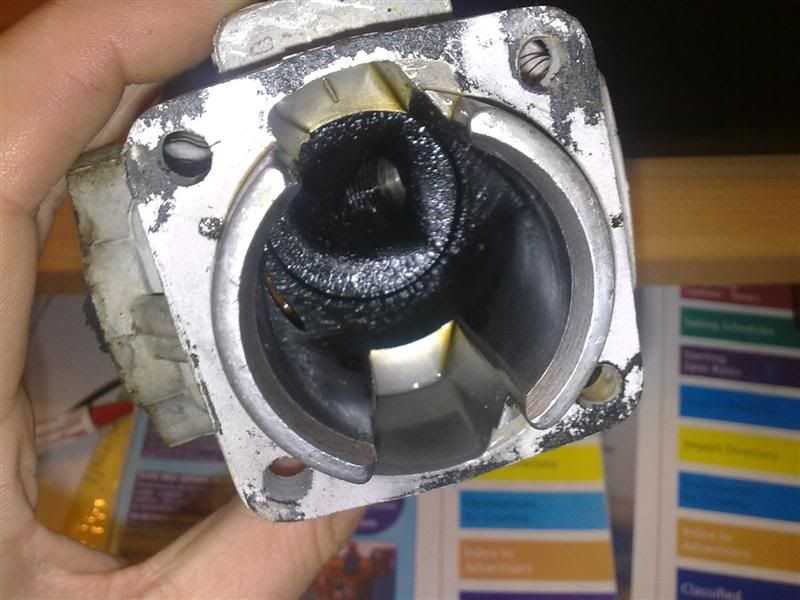 piston - not looking too good?!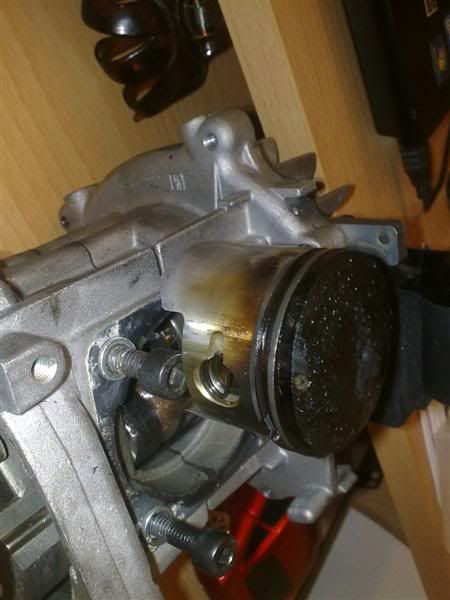 timing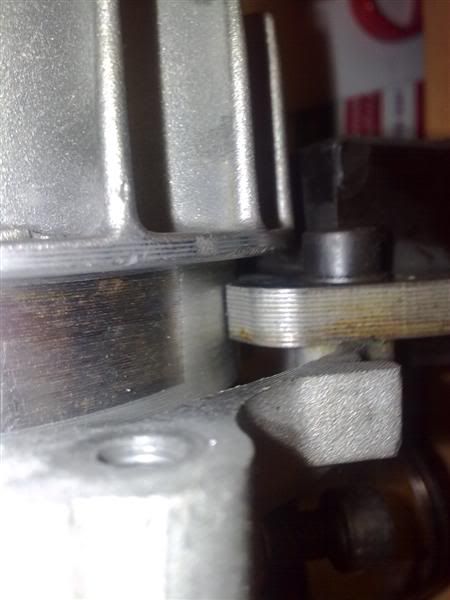 cases/crank