How fast does he want to go??
There is a currie 500w motor that bolts in, the back half my need to be clocked to get the wire out of any interference. But that would be the only modification. You probably gain 1 - 2 mph.
Or....
Buy a 36v controller and throttle for an MX500/MX650. Then fit a third battery in there. Easiest way is to flatten the sides of the battery tray and fit the three in sideways.
Put a fusable link (30amp fuse) in between each battery.
Thats it, better takeoff, and weight dependent, anywhere between 21 and 23mph. For pavement.
If want offroad, grass etc. Put a smaller sprocket on the motor. I believe it's 10 or 11 tooth, so drop it one which would be 9 or 10 tooth. You will lose a little top speed but have way more low-end power take you through the grass.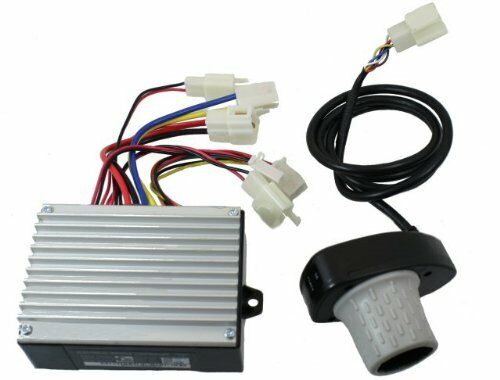 Find many great new & used options and get the best deals for Razor MX500 & MX650 6-Pin Throttle and Controller Kit at the best online prices at eBay! Free shipping for many products!
And the biggest batteries, if you replace all 3, is the 12v 9ah batteries.
Otherwise one battery at whatever ah the other 2 you have are.