Hello, guys. I recently bought an X7 off of craigslist for 90$, being told that the bike only needed a new battery. Turns out, it needs a new starter, some new wiring, a lot of elbow grease, Simple Green, and just spending some quality time with it.
Here is how i recieved the bike. (Pictures the guy sent me):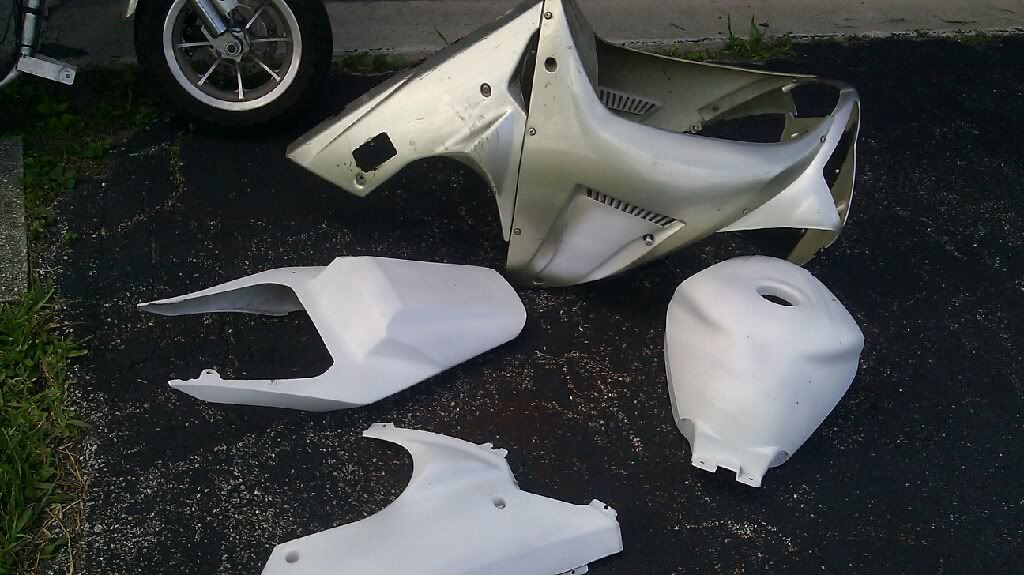 *Note that the pull start is missing rope and a handle, so i put some rope in it, tied to a sparkplug and tried to pull.. It gets stuck against the starter cawl (sp?). The only way to get it started at this point is with a drill against the nut on the starter cawl.
I decided to strip the bike and completely degrease it, whoever owned this girl before me definitely wasnt one on washing or taking care of things.
Here is a picture of a freshing pulled engine, still greasy as sin:
Started the process:
Image in next post**
Took her outside for some simple green magic:
Image in next post***
Then i started reading about stripping out the starter, along with the magnets that will in return cause the engine to spin easier increasing performance every so slightly. But before that, i noticed something extremely odd. One of the starter housing bolts was shorter then the other 3. I pulled it off and verified, but didnt snap a picture of it, but offset it back to optimal height with a couple small washers.
Image in next post***
Notice on the left, the bolt is slightly shorter than the one on the right.. weird huh?
Anyways, I decided that stripping the starter off the bike was easy enough and started to rip into it. I couldnt find the right Grade 8 M8 bolt or whatever, so i just pulled the housing against the magnet and it came right off. Had to drill one of the screws out because it was locked in there, but finally got all 4 magnets off the housing. (EXTREMELY stubborn i might add)
Image in next post***
I started to button her back up and heres some finishing pictures.
Image in next post***
Image in next post***
All in all that was easy, but now im just waiting for my WT603 carb with vstack and filter and intake adapter to come. Ordering a new pipe and a new pull start today and ill keep updating the thread with updates as i go.
The updates should be smaller, as this was over the course of 3 or so days.
Thank you guys for reading, and PLEASE PLEASE PLEASE give me input as you see fit
thanks!